We have written before about the benefits of buying from an online retailer, as we are big fans of what they have to offer compared with a typical bricks-and-mortar retailer.
You can compare styles and pricing online instantaneously, of course; their selection and custom purchase options are far greater than with a high street store and their prices are generally from 30% – 50% lower, in fact, because they are carrying less overhead.
We're not saying every online retailer is trustworthy and honest. Far from it. However, you can't go wrong if you buy through one of these three recommended companies.
We've chosen to focus on James Allen, Blue Nile and Brian Gavin because each has earned a stellar reputation in the online diamond industry.
They are all reliable and honest diamond engagement ring experts, offering purchasers a wide selection of high-quality loose diamonds, settings and finished engagement rings in a stress and pressure-free sales environment, at your leisure.
Each of these companies gives you first rate customer service with generous and trouble-free return policies should you be unhappy with your purchase.
---
James Allen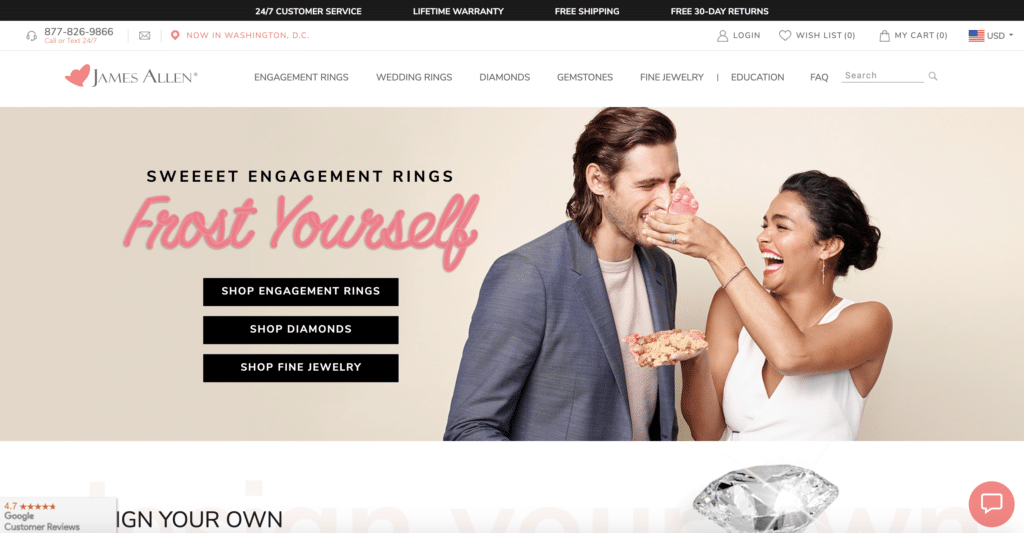 Let's take a look at James Allen first.
"We are constantly refining the features and functionality of our website based on how consumers are interacting with the website." Oded Edelman, Co-founder, James Allen
Pioneers in Technology
Founded in 1998 by James Allen and his wife, Michele Schultz, the company was originally called dirtcheapdiamonds.com. In 2005 the e-commerce platform R2Net joined forces with the company and this allowed them to totally revolutionize the diamond buying experience.
Technology is at the heart of James Allen's business.
They were the first online retailers to introduce imagery that allows you to look at every diamond they offer in 360-degree high definition.
Their proprietary Diamond Display Technology enables shoppers to examine any stone in their inventory in magnified 360° view – that is superior to a jeweler's loupe. It lets the customer see for himself, rather than relying on a certificate or a sale associate's opinion.
You can choose a particular gemstone, spin it around on your computer screen and look at it from all angles so you can see exactly what it is like. Compare that with a static image and you'll understand how revolutionary James Allen's technology really is.
They continue to innovate relentlessly in their pursuit of creating the perfect online jewelry store and buying experience, as the gap between virtual and physical becomes increasingly smaller and customers' expectations rise.
It is critical for any consumer looking to buy a diamond engagement ring online that the site offers an easy technological and visual experience and the highest quality products.
James Allen has mastered this to become one of the premier diamond retailers in the world. In fact, they manufacture diamonds for many other retailers, including Tiffany & Co.
Customization
You can custom design your ring with a few clicks of the mouse. James Allen has a huge selection of settings, stones, color and cut grades carats and their Design Your Own Engagement Ring allows you to tailor a specific ring to your exact tastes.
For example – you can add a white gold solitaire setting to a 2 carat diamond, change the style or cut, take a look at the final ring or change it completely, with a customer service agent helping you every step of the way, as needed.
This makes it almost absurdly easy to custom design whatever you want.
Huge Inventory
James Allen's inventory is enormous – some 300,000 gemstones with a vast selection of settings, styles, cuts and options from which to design your ideal engagement ring.
A typical bricks and mortar store will only have a few finished rings on display and will not offer any customization.
You will have to choose from what they have in their display cases, as they cannot afford to stock as many items as an online store.
Customer Service/Education
Purchasers typically have little knowledge about diamonds and may only have a few months in which to make a purchase, so James Allen has a non-commissioned customer service team ready to answer questions 24/7.
These representatives are trained extensively in the jewelry and diamond business before working with customers.
James Allen also prides itself on an extensive on-site education area, so that customers can find out more about the 4Cs of diamond grading before they purchase. These are color, cut, clarity and carat weight.
Here you will also find helpful education tabs on the different ring types and settings including solitaire, pavé, channel set, side-stone, three-stone, tension set, halo and vintage so you can decide which one is right for you.
Exclusivity
James Allen prides themselves on their selection of fancy color diamonds. These include rare natural, earth created colors including blue, green, brown and pink and also lab created diamond colors.
James Allen exclusive True Hearts ™ diamonds have an unmistakable hearts and arrows pattern with perfect symmetry and proportion. They are available in round, princess and cushion cuts.
Free Shipping
James Allen offers free shipping and insurance in the US and worldwide. Their packaging is elegant and secure and includes an appraisal, GIA or AGS certificate and copy of your invoice. The polished hardwood box is meant to be kept as a handsome and functional jewelry box for your ring.
30 Day Hassle-Free Returns/Warranty
They offer risk -free 100% refunds for all purchases returned within 30 days of shipment, no questions asked.
They also give you free shipping for returns within the US and Canada, plus a one-time free ring re-sizing within the first year of purchase if you got it wrong the first time around.
Customers outside the US will have to pay for secured return shipping.
James Allen also offers a lifetime upgrade of any loose diamond at 100% credit for any replacement diamond of at least 2x greater value as long as it is sent with the original laboratory certificate.
All jewelry purchased from James Allen is guaranteed with a life-time warranty.
James Allen in a snapshot
Cutting edge 360-degree imagery
Huge selection of high-quality AGS or GIA certified diamonds
Very competitive pricing
Customization options that allow you to mix and match
Exclusive diamond collections
Wide selection of high-quality engagement ring settings
Great customer service experience
30-day return policy and lifetime warranty
Life-time upgrade at 100% credit towards 2x greater priced replacement
Conflict-free diamond guarantee
Multiple payment options, including financing
Personalized engraving service
---
Blue Nile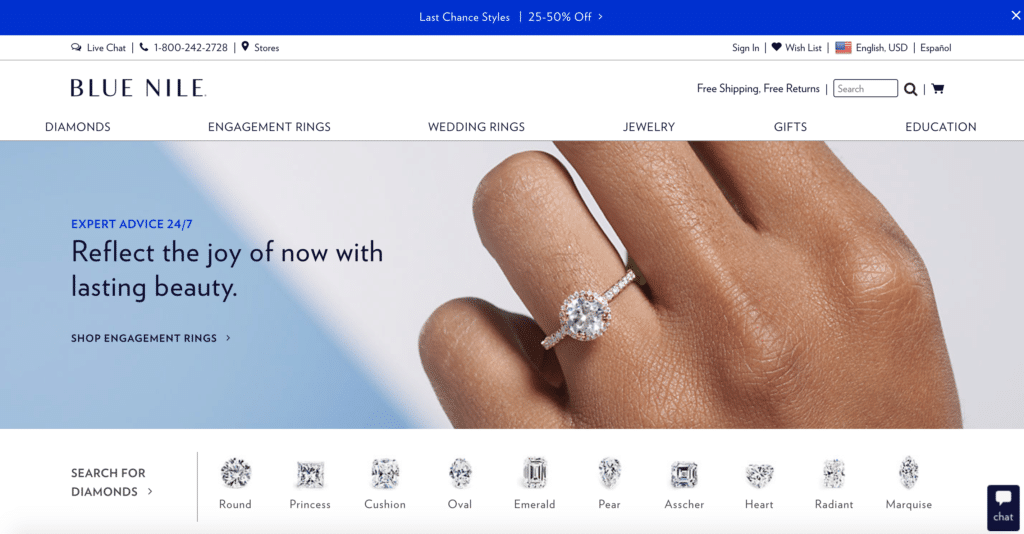 Blue Nile is perhaps one of the biggest names in the online engagement ring industry. Lets have a look at how they stack up.
Exceptional pricing and value for money
Blue Nile is one of the largest diamond companies in the world. It was founded in 1999 with the premise that the diamond engagement industry needed innovation and a disruptive business model in order to offer exceptional diamonds at an affordable price.
It is said Blue Nile's Founder, Mark Vadon was himself shopping for an engagement ring and was unhappy with his options at the time, so he decided to do something about it.
Blue Nile is arguably the most affordable retailer online and offer a price match guarantee.
In spite of lower pricing, their craftsmanship and product quality are excellent, so they rank high in terms of value for the money.
They operate on the assumption that the average customer does not know much about diamonds, so they go to great lengths to educate and inform their clients before making a purchase decision.
Huge Inventory
Blue Nile offers over 150,000 loose, high-quality diamonds, all of which are colorless to faintly colored (D-K color grades) with excellent clarity (FL-S12).
They do not store all loose diamonds on site. Instead, these diamonds are kept at hundreds of different locations in vaults all over the world.
The diamond sellers send Blue Nile a regular inventory of what they have including details of each stone's certification.
The wholesale price is passed on to Blue Nile, who then marks it up around 18% – a far lower markup than you will find at any high street retailer. Blue Nile can survive on a far lower profit margin than their competition because they have few inventory costs.
Their selection of settings is also fairly comprehensive, and they offer 3 different metal options of white gold, gold and platinum.
Although they may not have as many licensing deals and brand name designers that other online retailers have, they do have Zac Posen and Monique LHuillier on board – and also offer alternatives to just about any classic or popular ring style you may want.
Customer Service/Education
Blue Nile offers education, counsel and guidance in a non-commissioned sales environment. Their customer service team is available to answer your questions 24/7 through phone, email or live chat.
They have an extensive section on their website with information about the 4Cs, ring styles, shapes, designer rings, sizing and more.
Their customer service agents will give you unbiased advice so that you can make the right choice for your budget, helping choose the right diamond, the precious metal, setting type and the matching wedding band.
Free Shipping and Returns/ Lifetime Upgrade
Blue Nile offers free secure shipping on every US order, plus orders over $1,000 qualify for overnight shipping.
If you are unhappy with your ring, you may return it, no questions asked, within 30 days of when it was shipped, free of charge. Blue Nile gives you a free display box and personalized gift card with each ring.
Blue Nile offers a lifetime upgrade of all AGS and GIA certified diamonds purchased from them. You will receive a 100% credit towards a new diamond of at least twice the price of your original one.
Blue Nile in a snapshot
Simple, functional interface
No frills, low pricing, catering to all budgets
Recommended if you are looking to spend most of your money on the diamond itself
Largest online inventory of loose diamonds in the world
Most diamonds now have videos, others just a static image
Narrower focus on a few styles and settings
Reputation for great 24/7 customer service, via phone, email or live chat
Build Your Own online tool helps you customize your ring
Also has bricks and mortar physical stores on LI NY, White Plains NY, Tysons Corner VA, Salem NH, Tigard OR & Bellevue WA
Free secure shipping and insurance on every US order. Orders over $1000 are eligible for overnight shipping
Financing options
30-day money back guarantee – plus insured return label.
Upgrade program on all GIA and AGSL certified diamonds.
Conflict-free diamond guarantee, ethically sourced with the standards enforced by the Kimberley Process
---
Brian Gavin Diamonds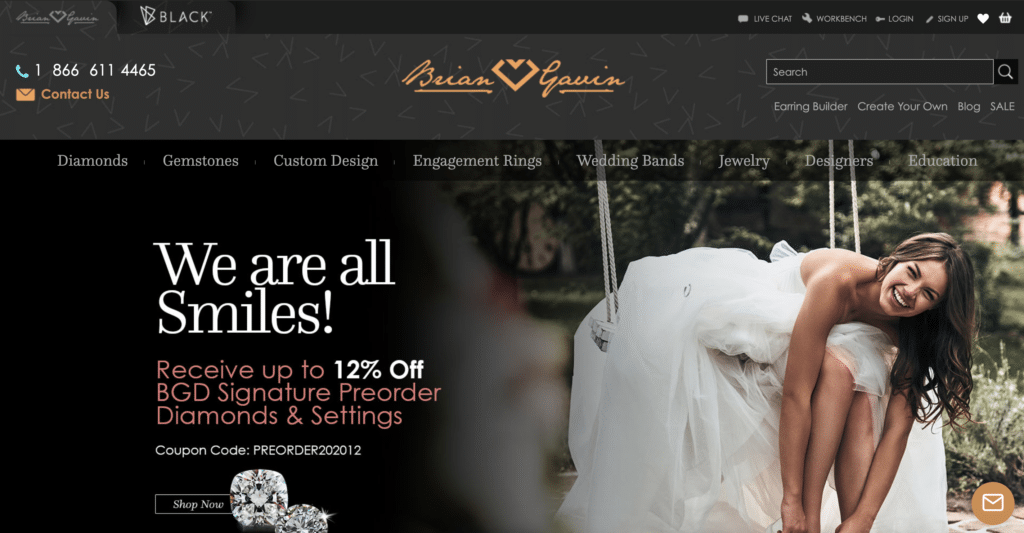 Our third online retailer is Brian Gavin. Known as "Brian the Cutter" the Founder is a legendary figure in the diamond industry.
He was born and raised in South Africa and has an extensive background in diamond craftsmanship. His family owned a diamond polishing factory and he grew up being exposed to the business from an early age, learning the art of maximizing the cut and brilliance of a diamond.
In 1998 he launched his "A Cut Above" Hearts and Arrows diamond and in 2001 co-founded Whiteflash.com which quickly became one of the foremost diamond retailers on the internet.
In 2009, he perfected the round brilliant diamond with his Signature Hearts & Arrows Collection, which many say is the most exquisite round brilliant cut ever produced.
The strength of Brian Gavin lies in his superb cutting ability, not in the technological aspects of his site, so if you are looking for online gimmickry, this is not the site for you.
However, if you are looking for the highest quality for your money it is Brian Gavin.
Known for producing diamonds with stunning brilliance and fire, Brian Gavin is all about taking quality to the next level. Their diamonds are among the top 1% of the finest diamonds in the world but come with relatively reasonable prices.
Exclusive Collections
Brian Gavin's exclusive Brian Gavin Signature Hearts & Arrows round cut diamonds comprise the vast majority of their product line, but they also have super-ideal Princess cut diamonds.
Brian has also perfected the cutting process for Cushion cut and Emerald cut diamonds, making them look optically symmetrical.
Brian Gavin's Blue line fluorescent diamonds are inspected by Brian himself for visual perfection. Because fluorescent diamonds can be priced at up to 15% less than non-fluorescent diamonds, this means that you get a high-quality Brian Gavin diamond at a good price.
The Black line is the best of the best at Brian Gavin. These are diamonds of unmatched brilliance, precision and beauty.
In case you were wondering, this does not refer to black diamonds. Rather, this is a line of high-quality diamonds that goes a step beyond the super ideal cut.
The Cape line offers diamonds that are all over 1 carat and have a color grade M or below on the diamond color scale, which means they have strong yellowish tints.
The Cape diamonds are cut with the same exacting precision of the other diamonds in the Brian Gavin collections and have the same high standard, but they are far cheaper.
Highest quality, in-house inventory
In contrast to other online retailers, Brian Gavin maintains an inventory of diamonds in-house and it is said that he personally inspects every diamond prior to shipment.
His personal reputation is on the line and he is relentless in his demand for the highest standards of quality.
Customer Service/Policies
Brian Gavin has knowledgeable and helpful customer service staff, with Live Chat available. They offer a one-year buy back policy, one free re-sizing, lifetime warranty and lifetime upgrade similar to other online retailers.
Return Policy
Items can be returned within 15 days, with a Return Authorization Number requested from the company. You will have to pay return shipping. Custom designs, hand engraved work and bezel settings are not eligible for returns.
Brian Gavin in a snapshot
Comprehensive images, videos and reports on all their diamonds
Exceptional cut quality
Conflict free diamonds
A range of high quality, unique collections including fluorescent and low color grade diamonds to suit varying budgets
15-day return policy, customer pays for shipping
The choice to select your diamond in advance straight from the AGS lab
Wide range of colored diamonds
Wide selection of settings and designer rings
Comprehensive diamond education provided on their website
Excellent customer service, including live chat
Excellent, high-quality packaging
---
Conclusion
Whether you are looking for the most technologically advanced website, the retailer with access to the most comprehensive collection of loose diamonds worldwide or the one with the best diamond cut quality, you can't go wrong with any of these three companies.
Since buying an engagement ring is usually a huge life decision, we always suggest that our readers check out each store to see which best aligns with your taste.