The setting makes the ring.
It sets the tone, enhances the cut, color and can even magnify the carat weight of that show-stopping center stone. You know, the one you want everyone to gasp at.
Although the setting is probably not the first thing you'll see in a ring, it is the setting that completes the ring.
Most of us pay far more attention to the brilliance and size of the diamonds or gemstones you have chosen as the central components of your ring – rather than its setting.
You can look at a ring and admire its diamonds, but be put off by its overall look, simply because the setting and precious metal colors are not a complementary choice.
It is the setting that determines the overall look of your ring and keeps your diamonds or other gemstones safely in place, without fear of losing them, so that your ring can be worn on an everyday basis.
A good quality setting can make a huge difference to your ring. It can create the illusion of a larger carat weight diamond and it can make the entire ring sparkle and flash with a much higher degree of brilliance.
The setting and color of the precious metal you choose for the setting can either flatter the color, cut clarity and carat weight quality measurements of the 4Cs – or it can make your diamond look smaller, duller and of poorer quality than it really is.
We will show you that that the right setting both completes and complements the gems in your ring to an important degree.
The setting is composed of two main parts: the shank or body and the head, which is what holds the gem in place.
There are so many options for settings these days.
Traditionally, a single round brilliant solitaire diamond in a prong setting was the choice of most brides-to-be, but brides and their grooms these days have become more adventurous.
They want to stand out from the crowd, do things differently and make a statement to their friends and relatives that they are unique – and hence the upsurge in popularity of all kinds of different setting options.
---
Popular Types of Engagement Ring Settings
Let's look at a few of the popular settings – and their advantages and disadvantages.
1. Prong Settings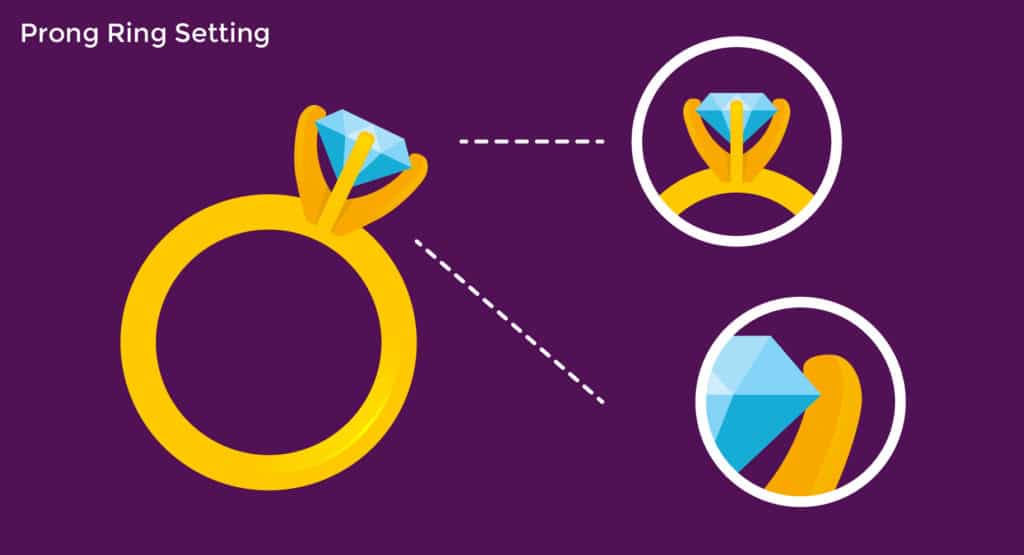 The Look: 4 or 6 rounded, pointed, flat or v-shaped claws holding the gem in place
This is the classic, traditional setting for holding a single large center solitaire stone in place. It consists of small metal claws that rise from the shank, keeping the central gem firm and safe.
The prong setting puts the full spotlight on the center stone and makes it the focus of attention, so, if you are going for a large carat weight single diamond and prefer a simple setting, the prong may be a good choice.
The prong setting comes in different styles, such as the "basket" which holds the diamond on its corners or a "peg head" which holds a round diamond on its north, east, south and west sides.
Advantages
The prong setting does not need a lot of precious metal to hold its center gem, so it allows the maximum amount of light to pass through the stone, emitting more flash and brilliance.
The prong setting is versatile and can be used to set many different shaped and sized diamonds or other gemstones, including the more elaborate ones such as marquise, pear and heart shapes. A special v-shaped prong if often used for square-shaped gemstones so the stone's corners do not feel sharp on the wearer's fingers.
The prong setting is also easy to clean as it does not have a complicated, inbuilt design which can catch more dirt.
Prongs are generally cheaper than most other settings. They can be made in less time and diamonds can be mounted quickly. It uses a simple technique, so an expert jeweler is not needed. Also, less metal is used in prong setting so it saves in material, time and labor costs compared with what is needed in more intricate settings.
The prong setting is a timeless, classic look if you are a traditionalist.
The Tiffany prong setting is a trademarked version, with six specially designed prongs and a knife-edged shaped shaft.
Disadvantages
The prong setting is not as safe as other types of settings. It can easily snag on your clothing and bend one or more of the claws, so that the stone becomes loose. It can also scratch furniture or other items.
Prong settings can become lose. If you are someone with an active, sporty lifestyle and you want to wear your ring every day, you may want to choose a safer alternative. It is recommended that you have a jeweler check your prong setting every two years to ensure that the gemstones have not become loose.
If there are 6 or more prongs in the setting, less light can enter it and therefore it will sparkle less.
2. Pavé Settings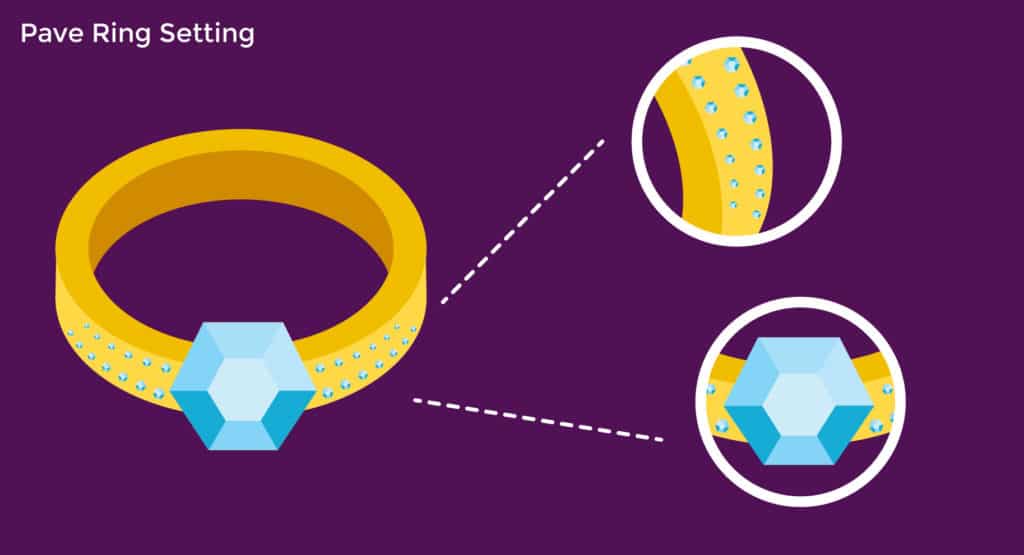 The Look: A pavé setting is one in which small diamonds are clustered together by drilling small holes into the precious metal and
securing them with tiny metal prongs or metal beads in between each one. It gives the appearance of a continuous, uninterrupted surface of diamonds, as if the ring has been "paved" with them.
Diamonds smaller than .01-.02 carats are called micro-pavé.
Advantages
Because there are so many small stones on the surface of the ring or band the illusion is of being a much bigger ring.
A pavé setting encircling a larger center stone can increase its apparent size by up to 30%.
More bling for fewer bucks! You can save money by buying a smaller center stone, place it in a pavé setting and it will magnify the look.
Pavé settings can help hide a lower quality cut center stone.
Pavé settings give a look of extra sparkling brilliance.
Pavé detailing works well with other types of settings, so you can pair it with a solitaire, a halo or a three- stone ring for a punch of extra glamour.
Pavé settings complement any diamond shape.
Pavé settings are very popular, so there are plenty of design options
Disadvantages
A pavé setting is difficult to clean and maintain because of the tiny diamonds.
Sizing and re-sizing can be a problem if the ring is pavé set around the full band.
Pavé settings are more expensive than prong, for example.
The sharper edges in a pavé ring may not be suitable for all lifestyles.
3. Halo Settings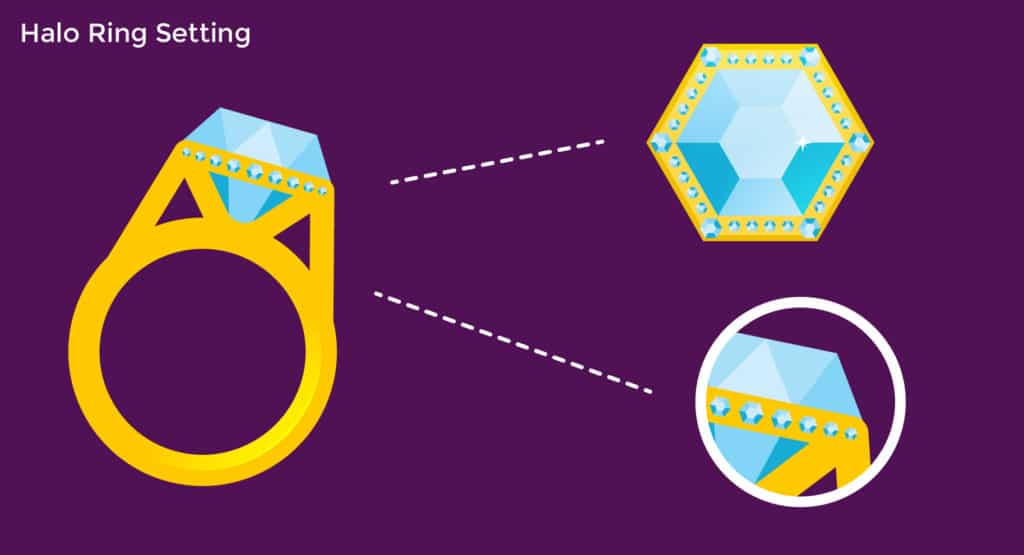 The Look: the center gemstone is surrounded by a "halo" of smaller stones.
Advantages
The halo setting is secure, holding the center stone in place.
If you cannot afford, or do not want a large center stone, the halo effect of smaller gemstones surrounding it will make it look much bigger.
As you will have more total stones on the ring, it will sparkle from them all and radiate much more brilliance.
You can choose a halo made of different colored gemstones than the center stone – or vice versa – for a more distinctive custom look.
The halo setting complements a wide variety of diamond shapes and sizes.
You get more bang for the buck with a halo setting, in that the halo magnifies the size and brilliance of a smaller center stone.
Disadvantages
The halo setting has more, smaller accents stones which may loosen up and fall out over a long period of time. You will need to check it with a jeweler on a regular basis
Re-sizing a halo setting can be difficult and more therefore more expensive
Cleaning and maintenance of a halo setting can be more time-consuming because of its smaller stones
It is vulnerable to knocks and daily wear if you have an active lifestyle
4. Cathedral Setttings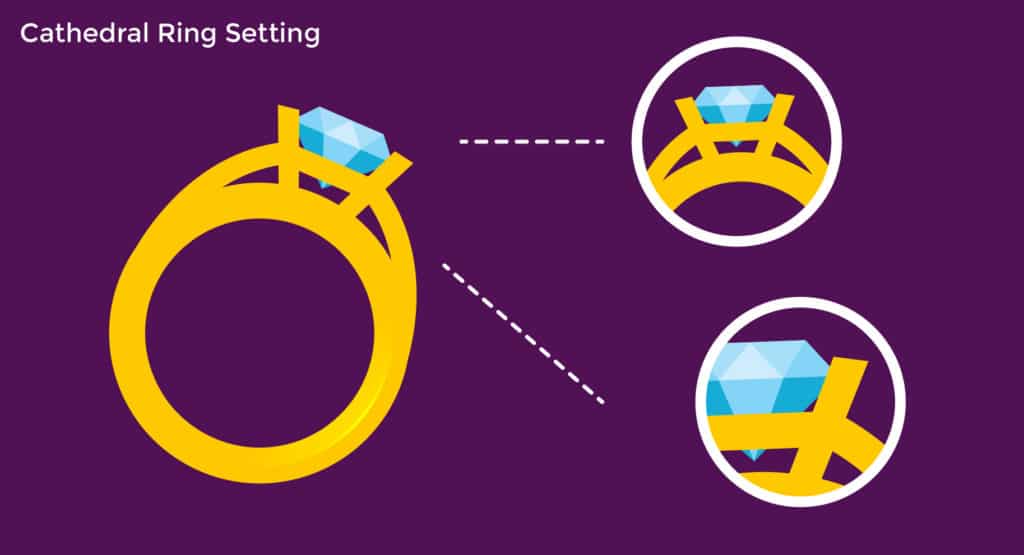 The Look: Often seen on vintage rings, the cathedral setting mounts the stone above the shank. It is held in place by arches of precious metals, hence the name cathedral.
Advantages
Holds the center stone very securely.
Makes the main stone appear brighter and more sparkling
Raised setting allows more light to pass through the center stone, so it is more brilliant
Cathedral settings can include extra accent jewels underneath the center stone for interesting customization options
It has a traditional look, if that is what you are looking for
Disadvantages
The cathedral setting will need checking for stone security and maintenance every few years
Not suitable for an active lifestyle as it sits high on the finger above the ring shank
Can be complicated to clean as you have to access underneath the setting
5. Channel Settings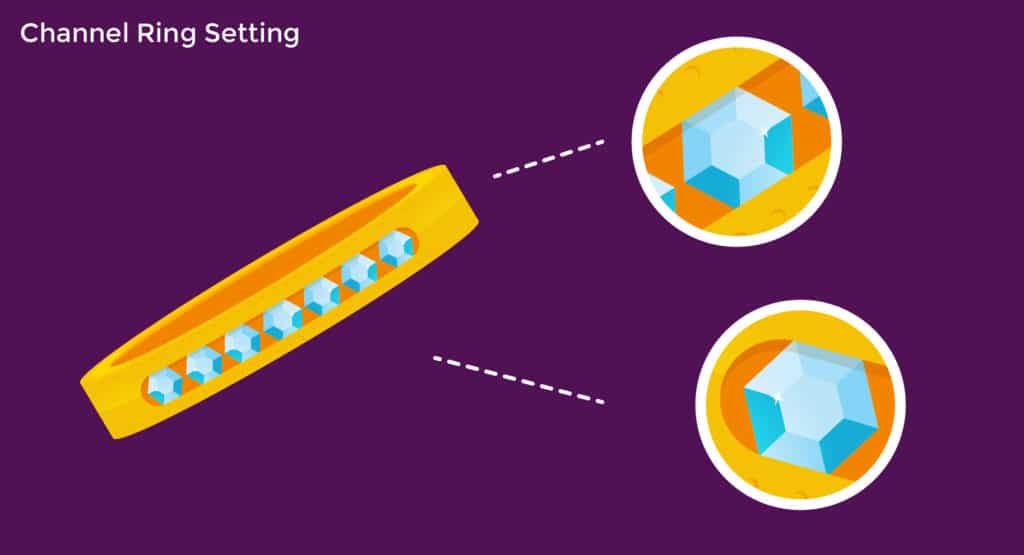 The Look: The diamonds or gemstones are set within a channel or groove within the band itself.
Advantages
Elegant, classic setting most often used in wedding bands, less often with a larger central stone for engagement rings.
Very secure – as the gemstones are set tight within the band of the ring.
Fair degree of brightness. The gemstones will emit a reasonable amount of brilliance and sparkle.
Very practical for a busy, active lifestyle. There are no sharp edges or protruding prongs to snag onto clothing.
Gemstones are well protected from knocks and blows.
Disadvantages
Cleaning is difficult behind the stones.
Re-sizing is also difficult and can be expensive.
Channel settings tend to be more expensive than other types of setting because each stone has to be set individually and held with tension within the band.
6. Bar Settings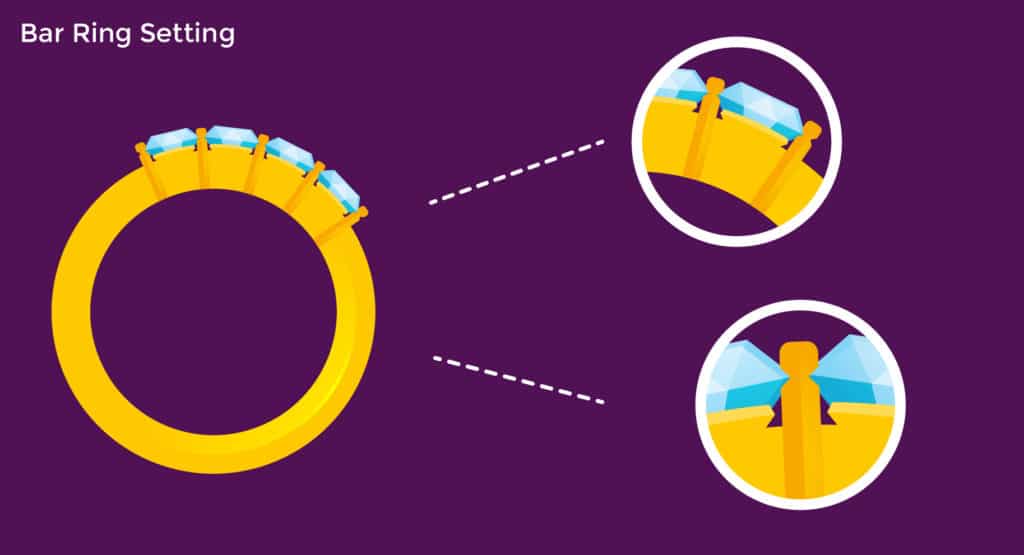 The Look: Similar to a channel setting but in this one, the diamonds are separated around the band by thin vertical bars of precious metal. A bar setting exposes the diamond on two sides, whereas the channel setting encloses it all around.
Advantages
Bar settings make each diamond more visiblethan channel settings, as less metal is used to hold them in place.
This setting is perfect for stackable rings – a big trend these days.
The stones are held securely in place, so there is little risk of losing them.
As the diamonds or other gemstones encircle the band, the ring's sparkle factor is high.
Disadvantages
Re-sizing is difficult and expensive.
There is a slightly higher chance of chipping in a bar setting than in a channel setting, because less metal is used.
Cleaning and maintenance are more difficult with this type of setting.
7. Bezel Settings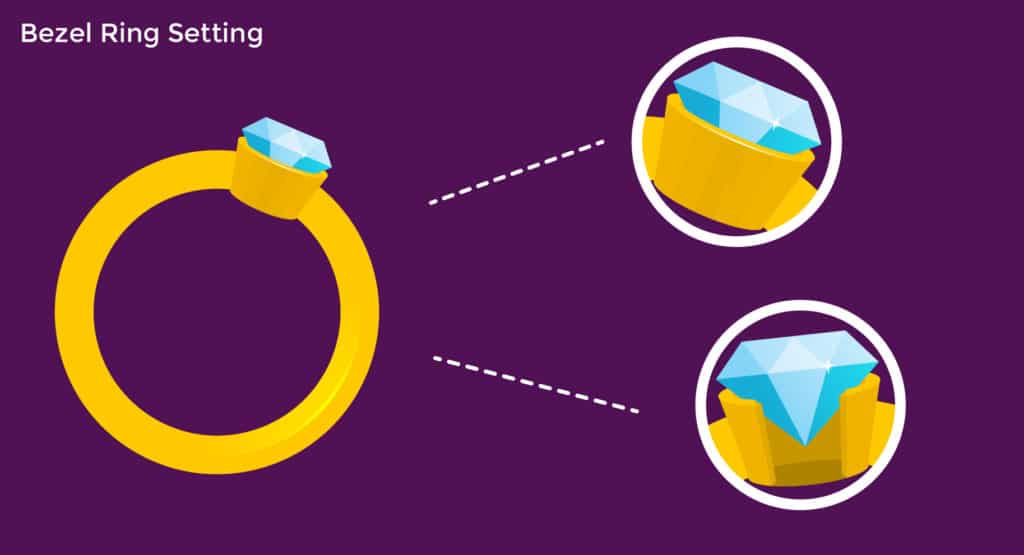 The Look: The gemstone is held in place by an entire thin rim of precious metal. Bezel settings also come in a half setting, which means that only half of the diamond is held in place.
Advantages
This is a very secure setting as the outer rim of the gemstone is completely protected by metal, so it is unlikely to become loose.
Bezel settings are sleek with a contemporary look
Perfect for those with an active lifestyle or nurses, teachers and others who don't want a ring that snags on clothing or gloves.
They are easy to maintain and virtually worry free.
Disadvantages
Because the gemstone is surrounded by a metal strip, it makes the central stone appears smaller.
A bezel setting hides more of the stone than other settings.
A bezel setting also cuts back on the amount of light hitting the gemstone which reduces its brilliance.
8. Tension Settings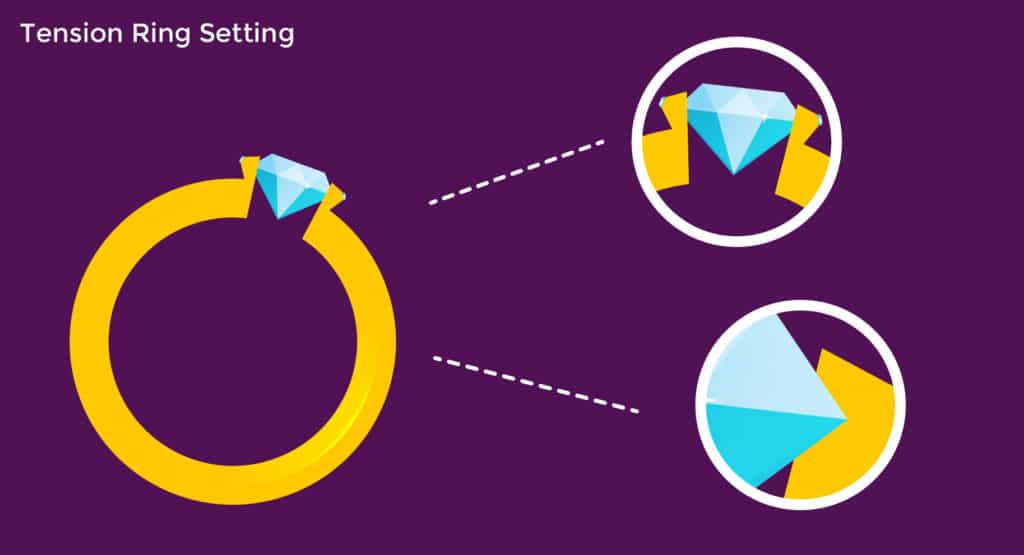 The Look: The gemstone is suspended by the tension of the two halves of the shank, so that it looks as if it is almost floating. A prong or bezel setting is hidden underneath the diamond to anchor it firmly in place.
Advantages
A tension setting holds the diamond securely in place.
It gives the ring a unique, modern and stylish look.
A tension setting will give more light to the central gemstone, as it has no metal surrounding it.
Cleaning and maintenance are easy with this setting as the stone is exposed.
Disadvantages
Tension set rings are difficult and expensive to re-size for obvious reasons.
It is possible, though rare, to dislodge the tension set center stone.
A tension set ring may make a high carat weight diamond look smaller, especially if thicker precious metal is used to hold it in place.
9. Three-Stone Settings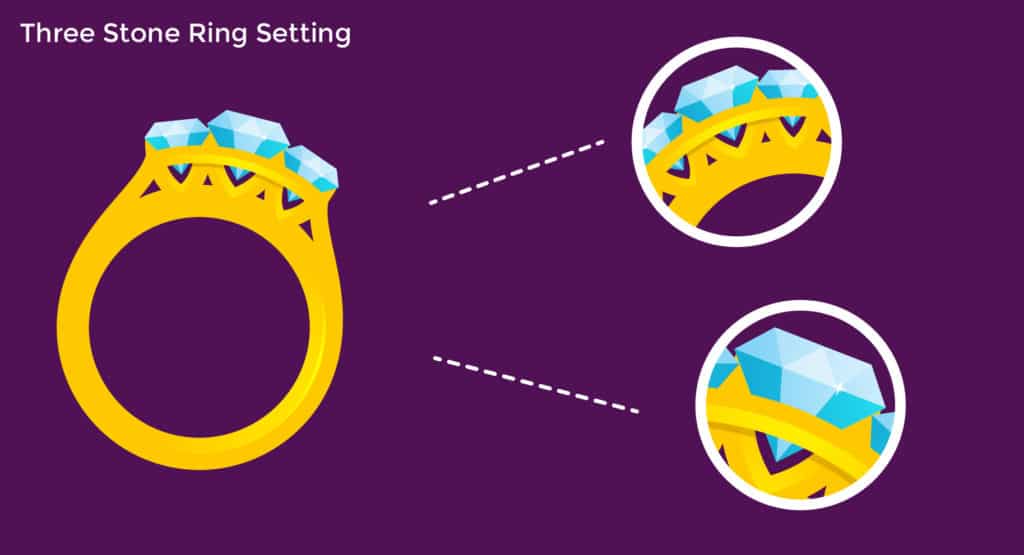 The Look: Three diamonds are set together, often with a larger central stone. The diamonds or gemstones in the mounting are usually held by prongs or bezels.
Advantages
More brilliance and sparkle! The more gemstones you have the more your ring will glitter.
The additional side stones will enhance your center stone, especially if this is a diamond.
Enhanced look. With additional stones, the total surface area of your ring is increased, giving you a big plus.
Versatility. You can add colored gemstones around your center stone to customize your ring.
Three-stone settings can be made with any diamond shape but work best with round brilliants, cushions, princess, emerald and radiant cuts.
Disadvantages
More maintenance and cleaning are required as there are multiple stones.
Requires careful design so that the side stones do not overpower the center stone in size, color or brilliance.
10. Split Shank Settings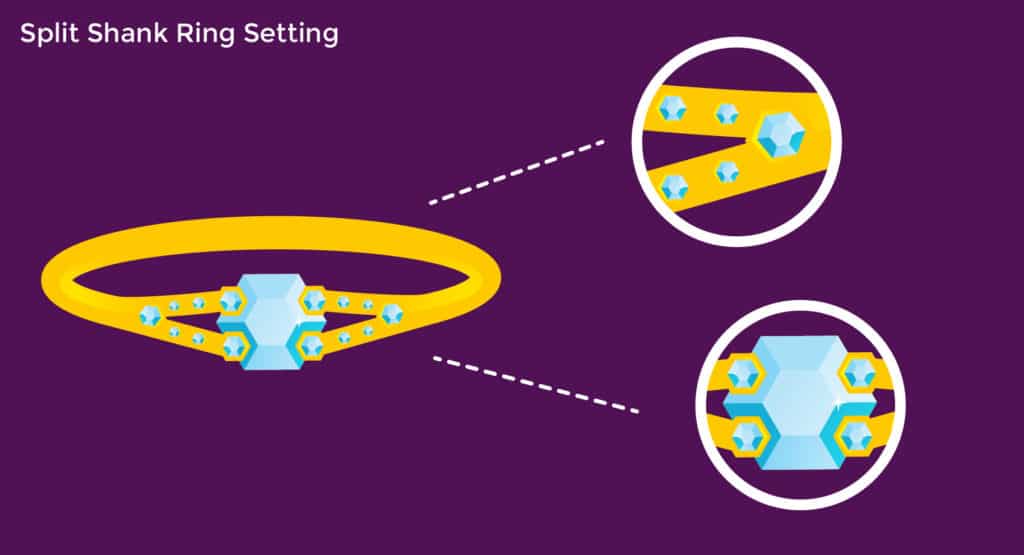 The Look: The shank, or band part of the ring splits in two, three or even four strands and meets before the center stone. The look depends on the size and shape of the chosen center gemstone.
Advantages
Striking, dramatic look, particularly if the split shanks themselves have pave diamonds, making the ring shine with extra brilliance.
Versatile, as they work with many different center stone cuts and designs and lend themselves to either a modern or classic aesthetic.
Very popular setting. (Beyoncé's engagement ring was a split shank holding an 18-carat flawless diamond. We just had to mention that.)
Very secure setting for those with an active lifestyle as the center diamond is held firmly in place.
Split shank settings create the illusion of a larger stone.
Disadvantages
Split shank settings need more cleaning and maintenance.
May not suit an active lifestyle as they can snag on clothing.
Other Less Popular Settings
Flush setting: Also known as a "Gypsy" setting is where the diamond sits within the precious metal and is completely flush within the band.
Cluster setting: This setting features a cluster of gemstones sitting tightly together, giving the impression of a much larger carat weight ring.
Infinity setting: Two interlocking bands on this setting form an 8-shaped infinity pattern, said to represent everlasting love.
Vintage/Antique Setting: Designed to look like Victorian or Edwardian era settings, these have delicate filigree, twisted metal threads or milgrain work to make them look antique.
So, does the setting come first or the precious metal?
Here's what we advise:
First choose the diamond(s) or gemstones that will comprise the main look of your ring.
Then pick the setting.
Finally, choose the precious metal color and type.
---
Precious Metals
Choosing the right metal for your setting is actually just as important as choosing the right diamond.
The metal defines and complements the ring's style and it plays a big role in the appearance of your diamond's color.
Just as you choose the gemstones and setting you want, you will also have to decide on which precious metal will look best. Your decision will depend on what your significant other's tastes are and what her everyday jewelry looks like. Is it silver or gold colored? What color are the center (and side) gemstones?
You should know that some metals can make your diamond look dingier, especially if you have skimped on the color 4C , so if you need further advice on which is the right one to choose for your ring, you can always check with an online customer service agent and they will guide you through the process.
Our recommended online retailer is James Allen as they offer excellent advice to ensure you make the very best choice.
Let's look at the most popular metal choices:
Platinum – Silvery-white colored, scratch proof, will never fade or corrode, low maintenance. Heavy, strong, hypoallergenic.
Palladium – Slightly darker than platinum, lighter weight, scratch proof, durable, low maintenance, strong, hypoallergenic.
White gold – Pure gold alloyed with palladium, for example. Plated with rhodium for extra white luster, making it hypoallergenic.
Yellow gold – Traditional choice, most in 14ct, 18ct and 22ct. Mixed with copper and silver for warmer look, color and durability depend on the carat weight chosen.
Rose gold – An alloy of pure gold mixed with copper and silver to give it strength. The more copper is used, the redder the gold appears. Often used in vintage and antique type jewelry.
Silver – One of the oldest substances used in jewelry. Malleable, but can tarnish and scratch. When plated with rhodium it becomes more durable.
Titanium – Ideal for engagement and wedding rings as it is very strong and durable, more so than gold. It is slightly darker than other silver metals and is lighter weight. Hypoallergenic.
Zirconium – Similar to titanium in strength and weight. Lustrous grey/white metal, hypoallergenic. When heat treated, turns into a black, scratch proof oxide which is called Black Zirconium.
Tungsten – Tungsten carbide, also used in car engines, is exceptionally strong, scratch resistant and hypoallergenic. As it is very hard, it also brittle and can crack if dropped.
Stainless steel: Strong, scratch and stain resistant, hypoallergenic. Good choice if you are on a budget.
Here are a few color-match tips
The LESS color the diamond has on the GIA scale, the more it is suited to a white gold or platinum setting. If you insist on yellow gold, make sure the prongs holding your diamond are white metal.
A diamond with a color grade of M or lower will have a yellowish tint; yellow gold will make it appear yellower, so white metal is a better choice here.
Fancy colored diamonds can be placed in yellow or rose gold to complement their coloration.
Yellow diamonds can take either white or yellow gold.
Pink and blue diamonds are always set in white precious metal.
---
Putting It All Together
As you can see, there are many difference choices in settings and precious metal choices these days – and it is all about design, style, color and every-day practicality and maintenance.
It is also a lot about your tastes as a couple.
The right choices in these areas will serve to complement, not fight with your diamond or other gemstones and complete your ring's overall look, so you will have the ring you have always wanted.
Putting it all together requires some time and research, but it is well worth the extra effort when you think that the ring will be worn for the rest of your lives together.
*In this article, the word diamond and gemstone are used interchangeably. A diamond is a type of gemstone, but all gemstones are not diamonds.